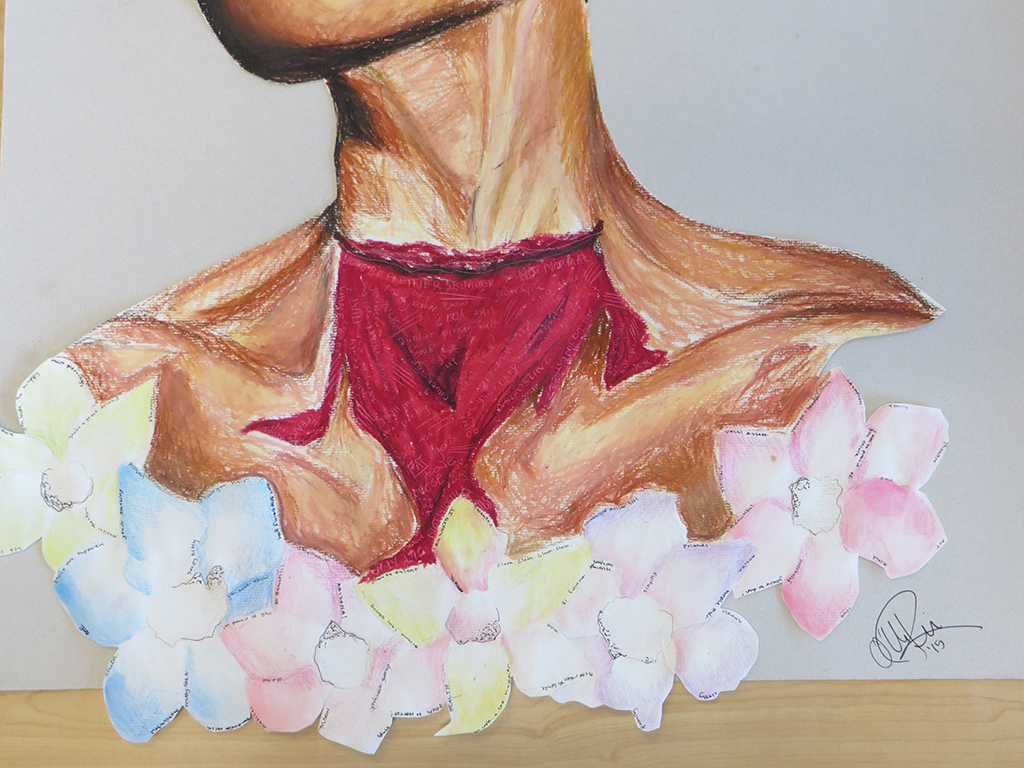 Title of Art Piece: Words. Words. Words.
Category: Mixed Media – 2015
Student/Artist's Name: Olivia Rivera
School: Kodiak High School
Grade: 12th
Artist Statement: As an artist, I view art as a key part of recovery. This piece in particular addresses a problem that isn't necessarily subject matter in every day art pieces: self harm and body image. Where the throat is slit and the blood is pouring out, words are carved into the pastel repeating particular phrases that have been pointed at me directly: "fat" "chubby" "you'd be prettier if you were skinnier" and the absolute worse "you're going to have to learn to deal with your problems like a regular person". All of these words had affected me my first three years of high school to the point of unhealthy habits. However, visible at the bottom of the piece are flowers. Contrasted with the rough pastel work, these watercolor flowers are bordered with words of praise and encouragement I have also heard, words that have built me up and made me feel important. Words such as "talented" "don't stop being you" and things to look forward to in life: "Arizona!" "Broadway" and most importantly "love". All of these words within the flowers are reasons to keep on living. Not matter what life has thrown at me this art piece reminds me that nothing can drag me down, the words within the blood don't affect me anymore and that there is so much in this world worth living for.
Artwork Dimensions: 24″ wide x 18″ high
Original Submitted Images Below
https://artalaska.org/wp-content/uploads/gravity_forms/17-b7221c298234f7ed822a8dc8a3c3bb8c/2015/04/IMG_0137.JPG