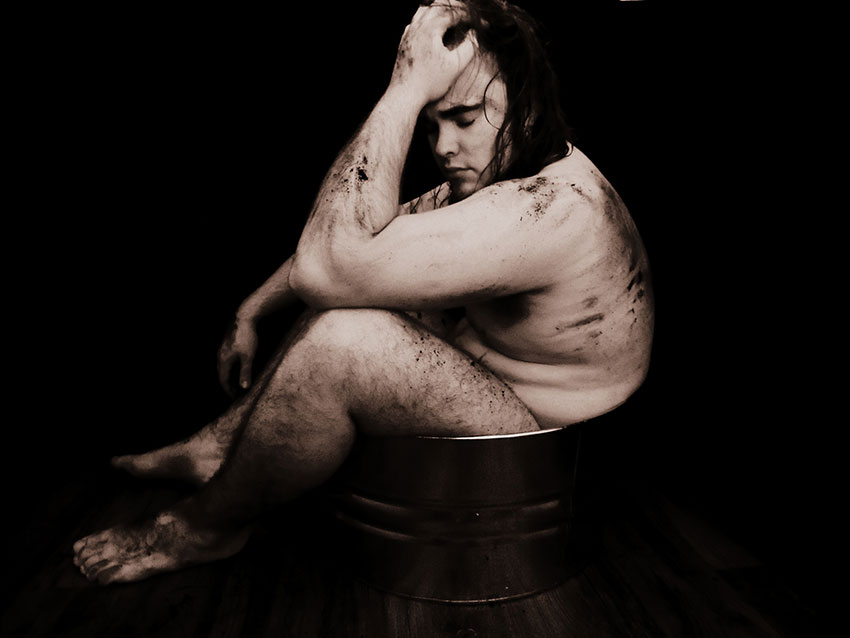 (Congressional Award)
(1st Place – Photography)
Title of Art Piece: Wabi Sabi
Category: Photography – 2014
Student/Artist's Name: Lindsey Barbee
School: Palmer High School
Grade: 12th
Artist Statement: Wabi Sabi
We were given the topic of wabi sabi, an ancient Japanese idea of finding perfection in imperfection. I really liked this idea and immediately knew what I wanted to do! Originally I wanted a woman in a porcelain bath tub covered in flowers. Once when I grasped the idea of what wabi sabi really was I realized that the image I had created in my head was not really what wabi sabi was about.
I still wanted to work with the idea of bathing. I researched what bathing was like in the early 1800's and found my idea. I was going to have a woman originally in the tin bath tub but again with more thought, I thought that a big man would convey wabi sabi more accurately. So I had the scene set.
The set up for this photo was really the hardest part of it all. I had hung black out curtains up in my bathroom and placed the tub on the wood floor. I had covered my model in coffee grounds to imitate grime and dirt and placed him in the tub. The next big feat was the lighting. It took many tries, but I found that if I put the shop work light that I was using in the porcelain sink in my bathroom, it reflected up and out onto my model. This created the beautiful soft yet dramatic lighting I had created in my head. This photo creates not only an emotion but a story. You can't help your mind wondering into how he became so dirty or what events lead to the expression on his face. The photo took a lot of planning but I loved the way it turned out and truly feel it represents the concept of wabi sabi.
Artwork Dimensions: 8 inches high x 10 inches wide