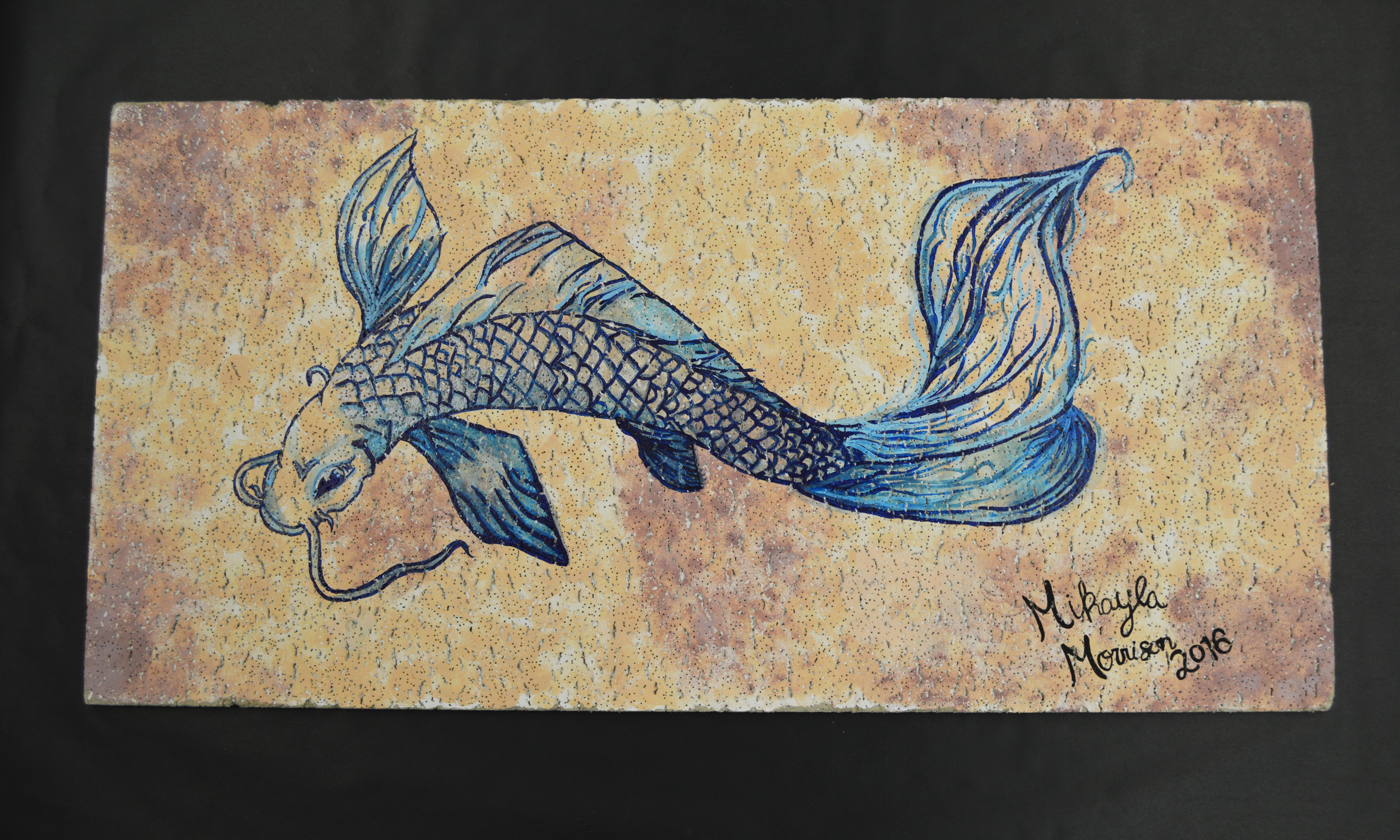 Title of Art Piece: Strength of the Koi
Category: Painting – 2016
Student/Artist's Name: Mikayla Morrison
School: Valdez High School
Grade: 12th
Artist Statement: For as long as I can remember, I have had an extensive attraction for Koi fish. I never neglect the opportunity to peer into an enchanted koi pond when given the chance. Some may think my attraction to them is strictly because of their bright coloring or interest in the Japanese culture. Although koi fish are beautiful, that is not the main reason that I desire them.
According to a Japanese legend, a koi fish decided to swim upstream to gain enlightenment. On the fish's travels against the current, the koi encountered several burdensome obstacles which helped it to grow stronger and more motivated each step of its expedition. As it reached the end of the river, still fighting against the unforgiving pull of the current, it swam upward into the waterfall in front of it. Because the koi faced the hard-hitting current its whole journey without giving up, it finally reached the top of the waterfall transforming into a flying dragon, where it would never have to struggle in the relentless river again.
This myth serves a variety of lessons and values to be learned. The values that stand out to myself, I use to motivate me are to never give up, just like the fish did not, demonstrating courage and strength. No matter how hard the current pushed it around, the koi had determination to finish what it started rather than just let itself flow back to where it began. Success is not easy, you have to work for it. The symbol of the koi I use to encourage myself to never give up when times get difficult, set my goals higher than I believe I can achieve, and once I attain my goals, I will be able to adore my hard work while enjoying my success.
Artwork Dimensions: 48 inches wide x 24 inches high
Original Submitted Images Below
https://artalaska.org/wp-content/uploads/gravity_forms/21-e4c9a985cb35261ebed8580b597a4679/2016/03/Mikayla-Strength-of-the-Koi.jpg