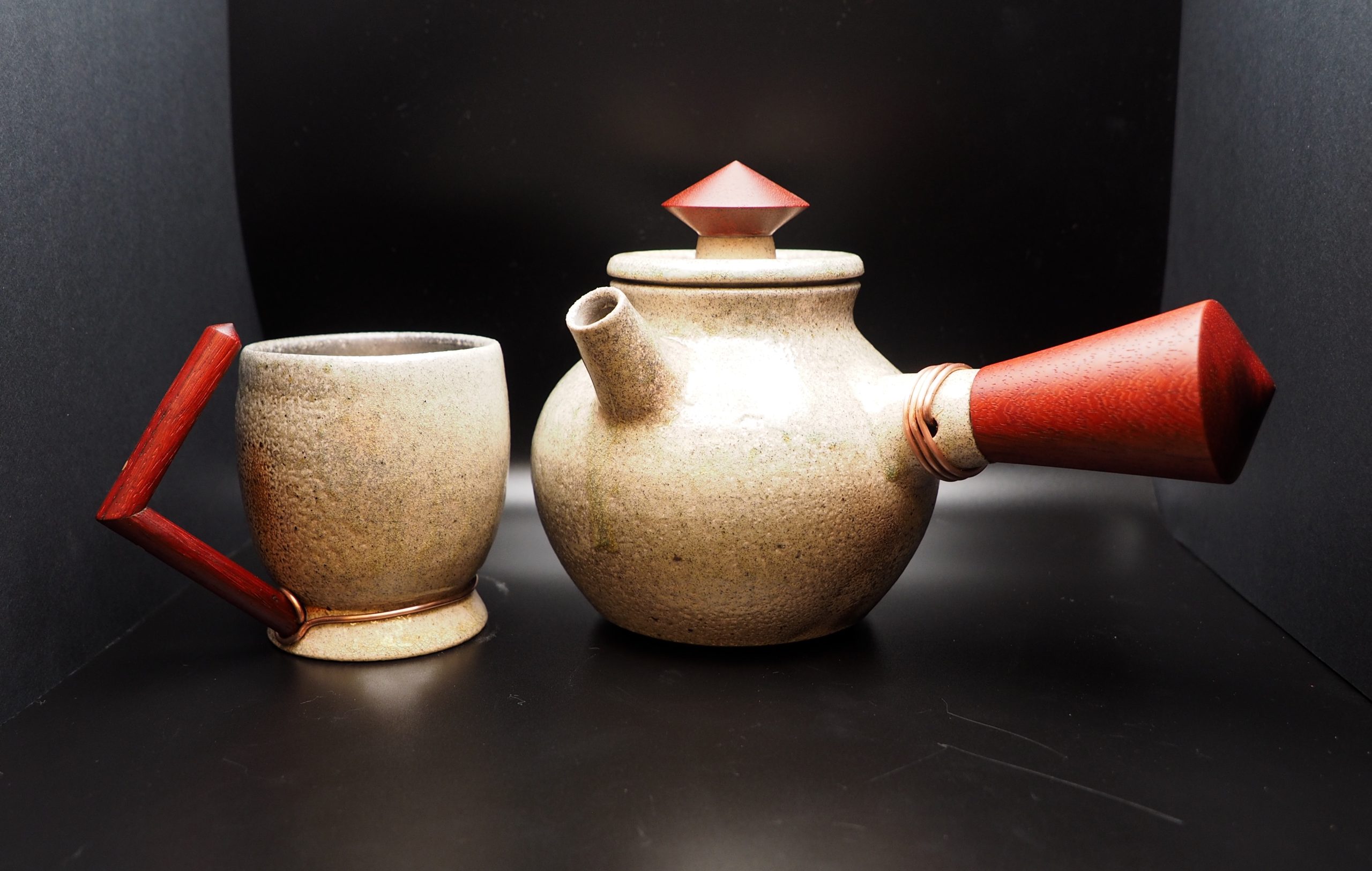 1st Place – Ceramics
Best of Show
Title of Art Piece: Kyusu Tea Set
Category: Ceramics – 2023
Student/Artist's Name: Seth McClurg
School: Haines High School
Grade: 12th
Artist Statement: 
I began throwing pottery when I was twelve and thought it to be the peak –the very pinnacle– of the crafting arts. Then, a few years later I discovered the lathe, and thought the very same thing; "Nothing can beat woodturning!" While I enjoyed both of the rotational arts immensely, I saw them as living in separate worlds, never destined to meet. One was crafted from pressure, heat, and the movement of molecules, the other from the sporadicity of growth, and the carving of blades. I never imagined them coming together… Until I did.
Recently, I got a rare opportunity to fire some pieces in an atmospheric soda kiln. Which essentially pulls out the minerals in the clay, coats it with the soda flux as glass, and imbues the piece with a natural glaze born from fire and the clay itself. Wanting to make this opportunity worth it, I racked my brain to come up with something creative. I decided on a tea set (I know, pretty basic).
This piece was inspired by the Japanese kyusu teapots, which tend to be smaller and have distinct handles attached to the side rather than the top. After years of both throwing and woodturning, I wanted to challenge myself to make a piece (or in this case, a set) that incorporated both arts in a unique, appealing –but most importantly– functional way. Each load-bearing joint in the set is decoratively reinforced with copper wire for strength. The wood used is padauk; a beautiful hardwood that is stable and dense to protect against moisture. And the ceramics themselves were thrown with a high-fire clay body that can survive anything short of being dropped on the ground (which was, unfortunately, the fate of the teacup's twin). The pot holds enough liquid to fill both cups two times each (or one cup four times).
Artwork Dimensions: (Teapot with lid) 6″ tall, 5 ½" diameter, 4″ handle. (Teacup) 3 ¾" tall, 3 ¼" diameter
Original Images:
1. https://artalaska.org/wp-content/uploads/gravity_forms/52-a6a69575a0bcf9c504f5378a8b3c8199/2023/04/Seth-Teapot1.jpg

2. https://artalaska.org/index.php?gf-download=2023%2F04%2FSeth-TeaSet3JPG.JPG&form-id=52&field-id=38&hash=a6eb299f42216afe8900c99b0452b19b34cbefb552be7fb4cfb9fcc9f1d35885

3. https://artalaska.org/index.php?gf-download=2023%2F04%2FSeth-TeaSet2.jpg&form-id=52&field-id=38&hash=058e19ba058dda9c661867d4d223a40095c2e5ad1e787145370de7c60e1996ab