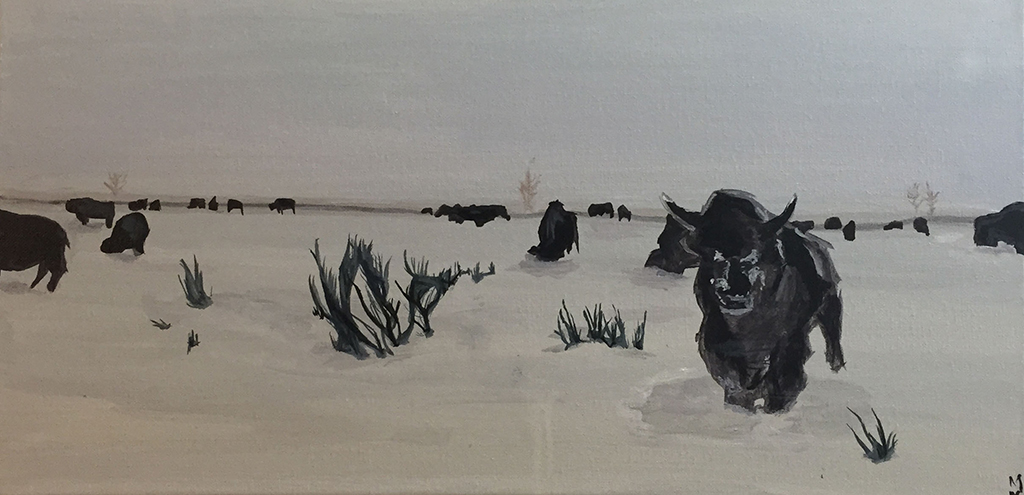 Title of Art Piece: Happy, Lucky
Category: Painting – 2015
Student/Artist's Name: Margaret May
School: North Pole High School
Grade: 11th
Artist Statement: This painting was inspired by my lovely sister, who lives near Grand Teton National Park. She photographs and sends often images of the incredible wildlife and scenery which surround her. She is especially fascinated by groups of snow-covered bison; with their unique and entertaining facial expressions and strikingly large stature.
The main bison depicted, affectionately dubbed Ralph, provided an excellent opportunity to explore new methods of color, texture, and technique.
This work, painted and gifted to my sister for Christmas 2014, is titled "Happy, Lucky" for how I, the artist, felt when I was given the opportunity and the experience of doing something positive and constructive for a much loved member of my incredible family.
Artwork Dimensions: 12×24
Original Submitted Images Below
https://artalaska.org/wp-content/uploads/gravity_forms/17-b7221c298234f7ed822a8dc8a3c3bb8c/2015/03/RALPH.jpg