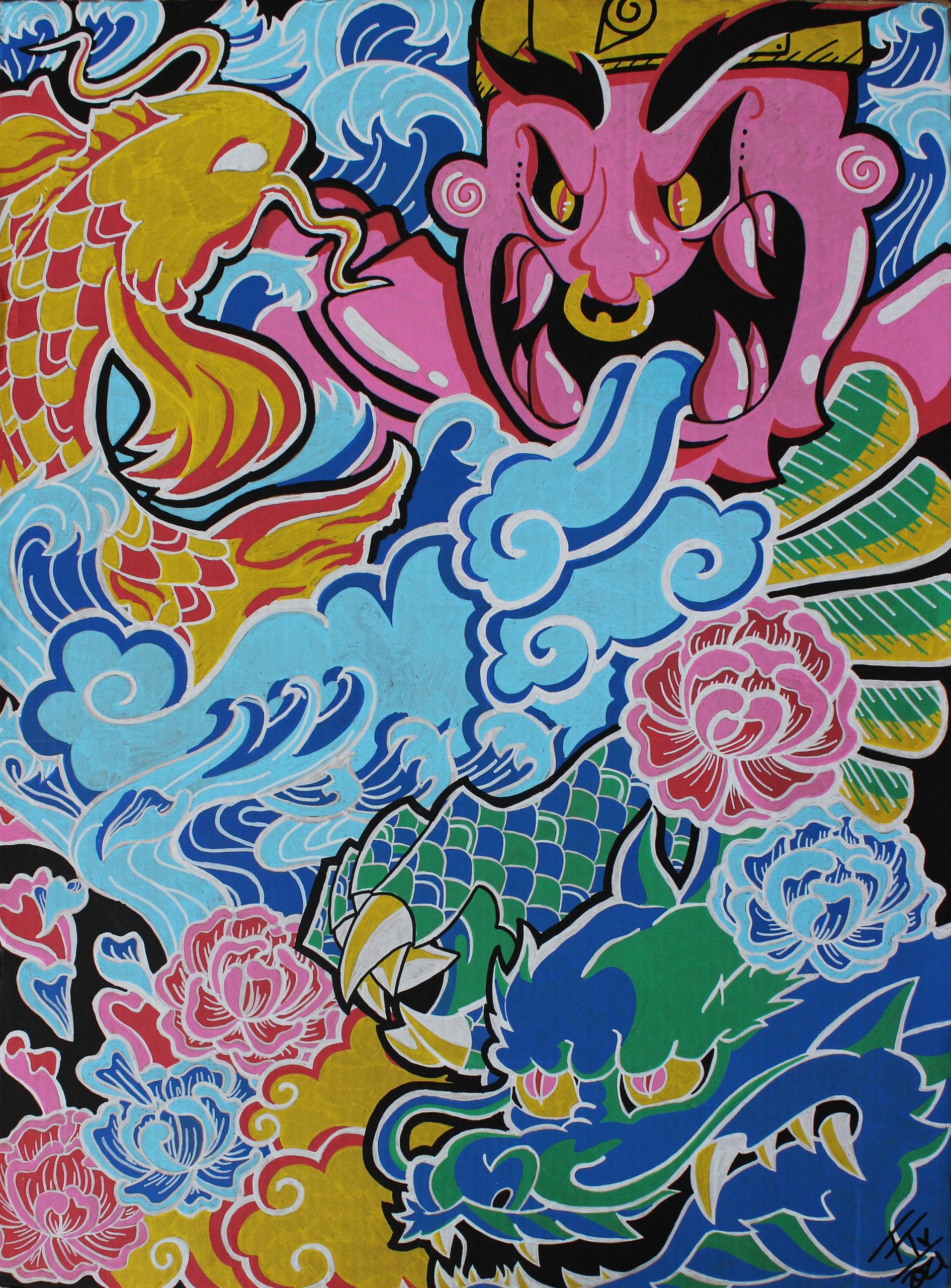 Honorable Mention – Drawing
Title of Art Piece: Colors of the Yakuza
Category: Drawing – 2021
Student/Artist's Name: Trinity Quinto
School: West Anchorage High School
Grade: 11th
Artist Statement: My piece was made with paint markers, drawn on a large piece of cardboard that was given to me out of the blue. I sadly didn't have time to pick up a canvas for myself so I used what was available at the time, which was said cardboard. This piece uses only eight colors which made me step out of my comfort zone and play around with colors and puzzling colors to use for shading. This gave the piece a little pop to it that I really liked.
The title "Colors of the Yakuza" may seem a bit off setting considering I am not biologically Japanese along with the history of the Yakuza itself. But what really inspired me to make this piece, despite the history behind it, was the group of Yakuza's tattoos. The attention to detail and usage of bold color in most tattoos, plus how they use up as much space as they can, leaving not one bit of skin un-inked, was a style that spoke to me. It was intriguing to me and I tried my best to sketch it in my piece while also giving it enough of a twist that can be recognized as my own, while also respecting the culture. My inspiration was not only the Yakuza tattoo designs, but just the beauty of Japanese art. I made sure to study the culture and meaning behind each item I drew. From the koi fish to the flowers, I made sure I knew what their meaning was so that I wouldn't use it out of context, still, respecting the culture. Especially because of many rising Asian hate crimes at the moment, not only Japanese, but other Asian cultures, I wanted to show people the beauty in some of the things they may see as bad, to look past the bad and see just the littlest detail of light.
Overall, I think this piece not only gave me a lot of serotonin while making it, but I also was able to educate myself a bit on the culture behind it and the meanings each animal or character had. With coloring and placement, it helped me figure out a way to layout my art, both in color and shape, that can move they eye around. Alongside with playing around with a limited color wheel that helped me differ lights and darks.
Personally, my goal as an artist is to make things that I enjoy making, and also put a smile on a face, or a thought in someone's head. I do think this piece helped me with that because I made sure that the flow of my piece moved the eye to make sure the observer saw everything and gave each detail a thought.
Artwork Dimensions: 28 1/2 inches high x 22 1/2 inches wide
Original Images
https://artalaska.org/wp-content/uploads/gravity_forms/39-8ac6ca04a8f39bd461fce00dcc46c12a/2021/04/TrinityAllState.jpg