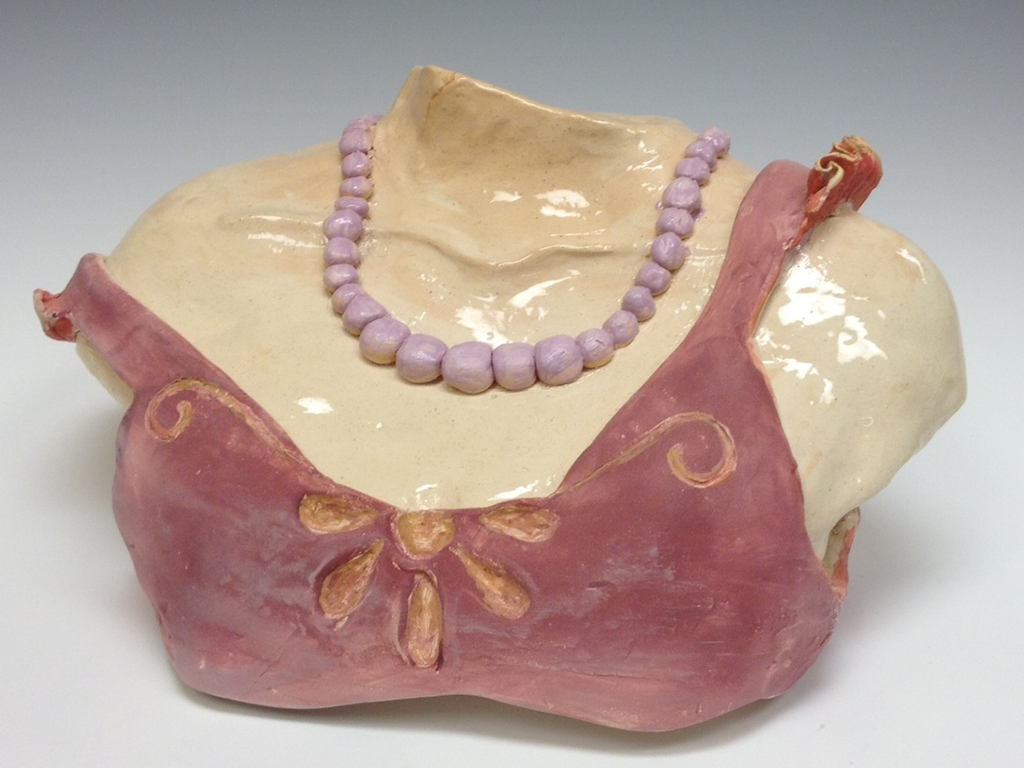 Title of Art Piece: 50's Inspired Torso
Category: Ceramics – 2015
Student/Artist's Name: Sierra DeLoach
School: Homer High School
Grade: 11th
Artist Statement: Art that takes the human form or expresses humanity through figurative shape connects our reality to a bigger idea. Placing a human trait in a natural element provides bases in which to relate ourselves to the natural world in a way that is usually lost in the Age of Technology.
As an artist, I have opted to explore human emotion. Even in drawings, the concept of human feeling and behavior has always been intriguing. Starting simple, I have begun to add as many realistic details as I can, while still retaining an almost cartoon-like feel. I have built a connection between the techniques I learned in drawing and its 3D counterparts, particularly a knack for proportion. I like adding natural elements to human figures, for example, butterfly wings or landscapes.
I use a variety of techniques to build my pieces, including coils, slabs, carving, and attaching separate pieces into a singular object. I prefer to keep smaller details off the main piece, and glaze them on later. I use a wide variety of low temperature glazes to achieve vivid colors.
Artwork Dimensions: 7 Inches High X 15 Inches wide
Original Submitted Images Below
https://artalaska.org/wp-content/uploads/gravity_forms/17-b7221c298234f7ed822a8dc8a3c3bb8c/2015/04/Sierra-1.jpg
https://artalaska.org/wp-content/uploads/gravity_forms/17-b7221c298234f7ed822a8dc8a3c3bb8c/2015/04/Sierra-2.jpg
https://artalaska.org/wp-content/uploads/gravity_forms/17-b7221c298234f7ed822a8dc8a3c3bb8c/2015/04/Sierra-3.jpg