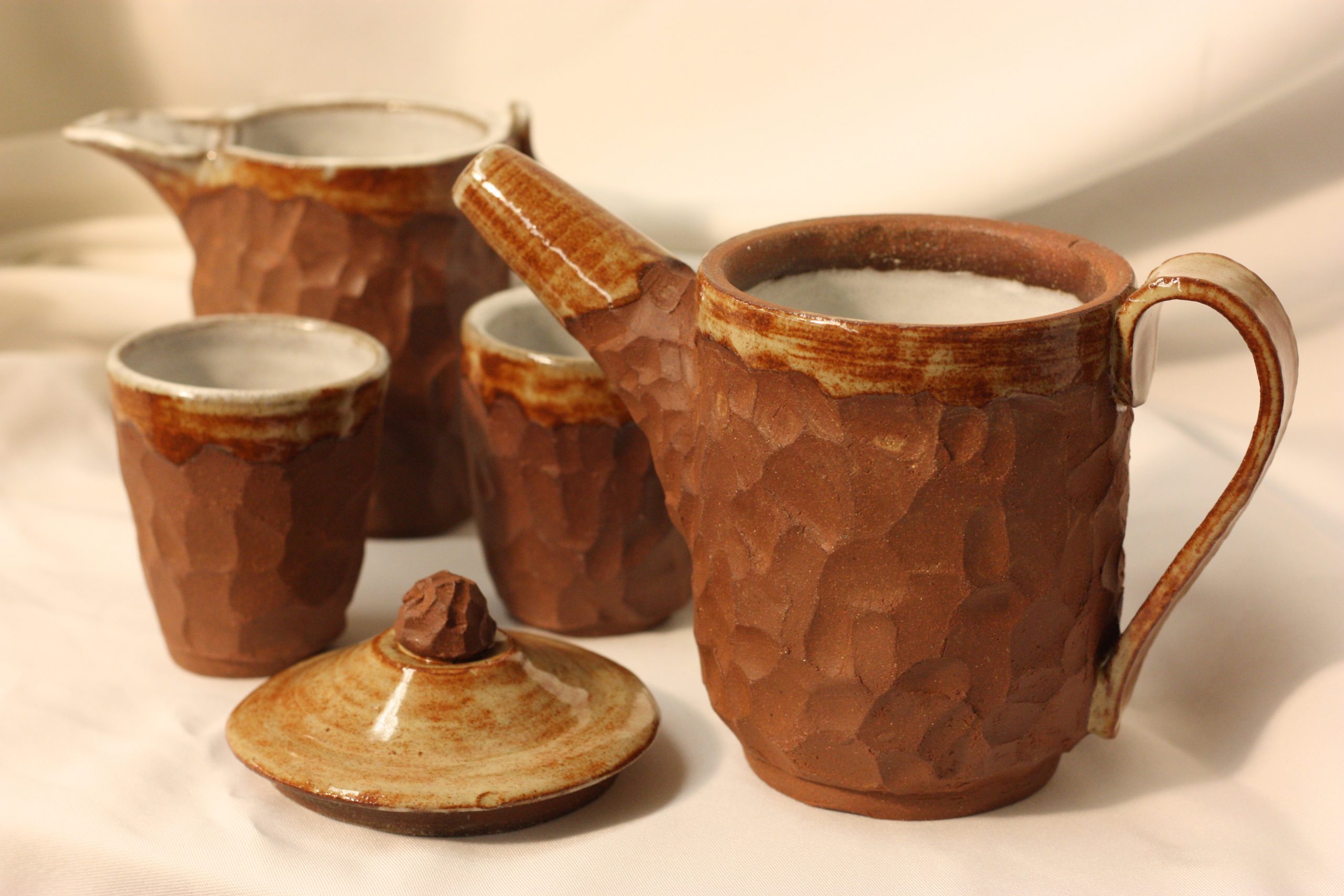 Title of Art Piece: Chiseled Stone Tea Set
Category: Ceramics – 2021
Student/Artist's Name: Seth McClurg
School: Haines High School
Grade: 10th
Artist Statement: This set, Chiseled Stone, is meant to portray – you guessed it – chiseled stone. The choice to leave the many facets un-glazed is meant to draw attention to the texture and form of the set, rather than vibrant colors or beautiful illustrations. The Chiseled Stone set is utilitarian, not fragile or dainty; it's meant to be used. The form and size of the cups make them comfortable to hold for sipping on a delicious beverage and the teapot's cylindrical shape makes brewing and cleaning easy.
I had a design plan in mind before throwing the set and knew that I wanted to try an interesting trimming technique in order to get the chiseled, faceted aesthetic. To start, I threw each of the pieces a little thicker than necessary to account for the trimming I would do later. Once leather-hard, I took a looped ribbon tool and carved chunks out of the outside relatively deeply. I went in all different directions while carving, using the wide and narrow end of the tool to get different sized facets. I left a little bit of the top edge uncarved to leave a comfortable sipping rim and to enhance with a bit of Allspice glaze. After trimming the texture, I trimmed the feet very basically and simplistically. There are no handles on the cups to keep them simple and to save on the workload (as there are five separate cups), and the handle on the teapot is an unornamented slab cut-out, to keep with the simple aesthetic. Inside each piece is a slightly glossy, white, Vanilla Spice glaze. The outer rims (and handle/spout) are all wrapped in the tan Allspice glaze.
After creating this set, I'm satisfied with the result. The chiseled stone texturing came out exactly as I imagined, and the set includes a teapot and more than two similar cups which I am pretty happy about – I finally achieved my goal of making a functional (and fashionable) tea set and am proud of the accomplishment.
Artwork Dimensions: Teapot height: 6 10/16" Teapot width: 8 ½" Teapot depth: 4 7/16" Cup height: 3 ¼" Cup width: 3" Cup depth: 2 15/16"
Original Images
http://artalaska.org/wp-content/uploads/gravity_forms/39-8ac6ca04a8f39bd461fce00dcc46c12a/2021/04/chiseled-stone-1.JPG
http://artalaska.org/wp-content/uploads/gravity_forms/39-8ac6ca04a8f39bd461fce00dcc46c12a/2021/04/chiseled-stone-2.JPG
http://artalaska.org/wp-content/uploads/gravity_forms/39-8ac6ca04a8f39bd461fce00dcc46c12a/2021/04/chiseled-stone-3.JPG